Hi there, it's Uchida.
The pollen in the air is starting to disappear, the weather is getting a bit more settled, and it's turning into a great season for driving.
Did you all go driving somewhere in the Golden Week Holidays?
Everybody who joined a new class, school or job in April should just about be starting to get settled in now, right?
What? You've got the May blues?
The best thing for you is a dose of Wangan Maxi 3!
You'll soon be able to get rid of that gloomy feeling!
Last time I spoke a bit about 10 Outrun Mode, but this time I'd like chat about Versus Player Mode.
Since Wangan Maxi 3 came out, many arcades have installed four Wangan arcade machines, and you often see four people playing VS Player Mode against each other. Some people have got a really good grasp of the branching system, and are choosing patterns that they like that help them win the race. (If I start from this ramp, I can take the lead at this branch point, and then head onto this course!!)
I sometimes challenge people at VS Player Mode, but nobody ever lets me win...
Did you know that the length of the race changes every time you play VS Player Mode?
The calculations for the length of each race in VS Player Mode (except for Hakone) are shown below.
(1. basic course length) + (2. additional distance for extra players) + (random bonus distance)
1. Basic course length
| | | |
| --- | --- | --- |
| 1 | When no players have a card | 8km |
| 2 | When all players have a tuning gauge set at 20 or below | 10km |
| 3 | When any player has a tuning gauge set at 21 or above | 13km |
2. Additional distance for extra players
2 player battle...2km
3 player battle...3km
4 player battle...4km
3. Random bonus distance
A bonus distance between 0.1 and 4.0km will be added to the course length.

The calculations do actually appear on screen for every race though...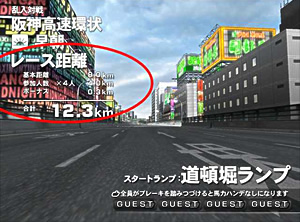 The length of the race changes with each VS Player battle, according to the different choices players make with the free branching system. This means the exact location of the finishing line changes in every race. I'd really like those of you who have a winning pattern to polish it up even further using these calculations - even those who you who don't have a winning pattern can use the calculations to get an idea of the location of the finishing line.
OK then, that's all for now. See you later!
(Original article in Japanese released on 5.7.2008)