Hi there, Kobayashi here. I've been working away recently, always with things in the back of my mind like "I haven't been driving in Hakone in ages ... the team all look really keen to go driving, AND we arranged to go driving with the 3DX development team from a certain other company ... man, I'd really like to go driving once the 3DX master is ready ..." and so on, and so on.
Just as I was wondering what to write in the Future Lab news this time ...
What's this?
A picture from Chief D Uchida ...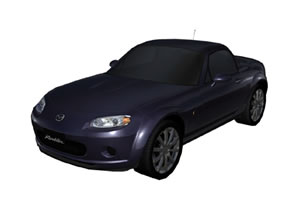 O-ho! An RX-8 floor base mounted with a 2 liter NA engine in a front midship layout. With a high class interior and electrically operated hard top, this car makes no compromises in running feel or comfort ... in the first major model change in the ten-odd years since its debut, I do believe it is a Mazda Roadster (NCEC-Type)!! It's the car that came out after the NA-Type Roadster I used to have. I'd like one of these for myself. It's so cool.
So what's the big deal about this car?
I think it might just be the mysterious extra car that's going to be added to Wangan Midnight Maximum 3DX!!!
As I'm sure all of those who read the Future Lab News will already know, there are going to be four new car types in Wangan maxi 3DX.
We already made two of the car types - the Mitsubishi Lancer Evolution X and the Subaru Impreza WRX STI - public at the location test and the AM show, but the remaining two cars have until now been shrouded in mystery.
And one of those mystery cars is the supreme high speed cornering machine, the Mazda Roadster!!
According to Takenaka, the programmer for the vehicles' behavior, and Uchida Chief D, who is in charge of various settings, the Roadster has particularly good cornering capabilities, maybe making it the fastest choice for the Hakone Course???
Nice one.
So it looks like we have a new machine with a totally different character. It's so exciting!
No, it's better than that, it is absolutely amazing! For a guy like me who loves Hakone and Roadsters, it's like a dream come true.
So for all you guys who are crazy about Hakone, looks like the only choice will be to set up a Roadster machine as soon as Maxi 3DX comes out, right?! Let's all try to get a new TA record on the Hakone course with the Roadster!!!
Eh? What's that you say?
Sorry, but that's a secret

You'll find out when Maxi 3 is released ... or maybe you won't?!
Okey-dokey, it's about that time again ... See you later!
(Original article in Japanese released on 11.12.2008)