Hi, it's Kobayashi.
These days, just as the weather seems to be getting hotter, it goes back to being cold, then the whole process repeats itself...
It's almost impossible to choose the right clothes to wear for going outside in this season.
Along with the new spring season, we recently welcomed some new members into the Wangan Project Team.
If you've joined a project team that makes car racing games, you do, of course, have to find out the true meaning of cars and racing.
We thought the new members should experience the real thing as soon as possible, so we went touring and cart racing!!!
First of all we all jumped in our cars and headed off to a mountain about an hour away from the center of Tokyo.
The top of the mountain was bright green, and really refreshing.
It felt great to just cruise leisurely along! Our daily stress disappeared in the blink of an eye.
(saying that I pretty much never feel any stress from work :-) )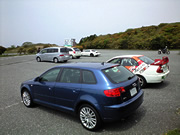 The photo above shows the participants' cars in a parking lot.
Oh! You can see Nagamatsu's new car, the FD3S (we call it Enaru 7) at the back, right?
In the Future Lab News last week, Enaru 7 had brand name 16-inch wheels, but look! Nagamatsu has already changed them for 17-inch wheels!
And it looks like he's gone for a pretty rare choice of wheel...
Just what are those aluminum wheels fitted to Nagamatsu's beloved FD3S?!?!
Also there that day was a Lancer Evolution, an Audi, a Triumph and some other sporty cars and motorbikes.
They all look pretty cool, don't they?
Ehhhhhh??? What are those two minivans doing there? They look kind of out of place.
To tell the truth, they were the cars that Maeda and I were using.
For various reasons, I had said "I'm going to go in a family car", then, out of some kind of crazed rivalry, Chief D Maeda said "well then, I'm going to go in my parents' minivan!!!"
Maeda D and I have been driving together on mountain roads, come sun, come rain, come fog, ever since we had a Roadster and an Integra-R.
Even when we were mega busy developing Wangan 1 and 2, we would still enjoy a casual drive around mountain roads in our cars.
And it was pretty much the same thing with the minivans - the two of us were driving in the mountains in our cars, same as always.
The minivans rolled about from side to side, and the tires hardly had any grip - it was pretty hard going!
Coming to the conclusion that "you gotta have a sports car to ride on mountain roads!!", we came back down the mountain. (maybe goes without saying though...)
And then we moved on to part 2 - cart racing!
In the cart race, four people - Maeda, Takahashi, Nagamatsu, and Yamamoto - battled in a ferocious conflict to secure one of the three seats on "Team Funikigumi".
And guess what happened!! Takenaka howled, Nagamatsu screamed?! The shocked new members????
What's going to happen to the Wangan Project????
If you're looking for a report of part 2, I'll have to pass on the baton to Nagamatsu, the man who threw down the gauntlet with a challenge to all the project team members after the race!!
That's all for today...see you soon!!
(Original article in Japanese released on 5.28.2008)