It's the mystery Judo man...Nagamatsu! At your service!!
The summer we've all been waiting for is finally here!! All of you school kids will be on your summer holidays, and the adults will be making plans for a fun summer time.
Of course, I have been excitedly making my own plans for trips and driving. It should be a whole lot of fun right now, in this, the best part of summer...
But I had a bit of work to do at an event. The event was held from August 8th (Friday), to the 10th (Sunday), at an amusement park in Kawasaki City, Kanagawa Prefecture.
So many people came along and made the event a great success!!
So...what kind of event was it!!!? Well...I think you're going to be pretty surprised!!
Tantaraaaa!!

*This version of the logo was made for the location test. It's different from the version that will be officially released.
That's right!! A mere year after the release of Wangan Midnight Maximum Tune 3, comes a location test for a whole new game!
The game is called
"Wangan Midnight Maximum Tune 3DX" (provisional title)
(Wangan Midnight Maximum Tune 3 Deluxe)
With piles of new elements added to Wangan Midnight Maximum Tune 3, and hundreds of non-goal related features, this is truly a deluxe version.
Actually, you can find details on the website at Future Lab Blog and Wangan Midnight Maximum Tune 3.
But I'm sure some of you, like me, had to work or were busy on the day of the location test, and couldn't come along. So...I'd like to give you a little run-down on what happened. Here are the details of the location test version of 3DX!!
A new course! "Nagoya Expressway Loop Line"
Finally, the "Nagoya Expressway Loop Line" has arrived!! It has gaps, banks, and straight lines to let you max out your power!! Put your car through its paces on this new course!!
New car types!!
The Mitsubishi Lancer Evolution X (CZA4) and the Subaru Impreza WRX STI (GRB) have been added as new car types!! How's your new car?
Story mode had special specifications during the location test!!
In this location test version, a cool compilation story featuring almost all the characters was featured in story mode.
A new character - Ogishima - appeared for the first time.
My number one must-see at this location test was the new character, FD Master Ogishima, making his first appearance in story mode.
Ogishima FD, cutting through the Wangan Line!! It was cool to see Ogishima growing into a real expressway runner as he got experience driving.
Wow!! It was a wonderful sight.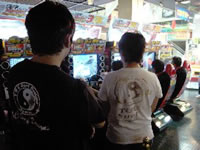 Players, players, and more players!!
You didn't need a license to play, so everybody was welcome.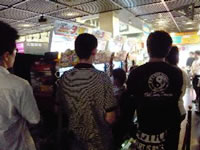 The players waiting for a game!! There were huge lines in the chassis.
Note) The above photos were taken with the permission of the relevant stores.
At normal location tests, photography is banned, so please don't take any pictures without permission.
Of course, I was kept busy, going around in my staff jumper collecting questionnaires and all sort of other stuff.
Every so often, someone would say "It's Nagamatsu, right??!! I always read the Future Lab News!"
Those kind of comments really made my day. Thanks so much.
Yeah, it was pretty busy, but it was really worthwhile - I got to meet loads of you Wangan Players, and listen to your passionate opinions about the game first hand.
Of course we'd love to hear from all of you who couldn't attend the event - please fire your opinions along to the opinion box. Looking forward to hearing from you!
OK then, that's about all for today!! Hai-yaa!
(Original article in Japanese released on 8.13.2008)