Hello, everybody. My name is Takenaka, a programmer for Wangan Maxi.
As you can see on the top page, the "Fastest Player in Expressway Match 2008" will be held at the "AOU Amusement EXPO"!
In this match, a total of 8 players (the top 2 players from Taiwan, China and Hong Kong, and Japan) will come to Japan to fight the final round, which promises to be a truly international event.
How will the representatives who won the qualification match in each country fight the battle? It makes me excited just thinking about it!
The "Wangan 3 Final Match in Mainland China" was held in Guangzhou city, China. The match was set up to find the top players in China, and I attended it as a guest.
This match was held at "Huan You Jia Nian Hua Location", one of the biggest halls in Guangzhou city, and there were so many people there! Friends of the players came to give their support, and so did spectators.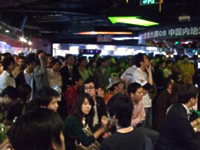 16 players who won qualification matches held in various areas in China were going to fight in the final.
There were a variety of players, including teams all wearing the same T-shirt, and girls.
At the opening, some street dancers showed us an exciting dance, which really got the event going.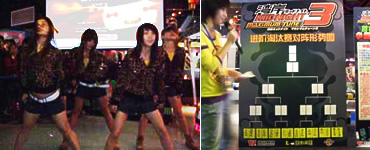 The battles I saw in the event were so high level, as all the players had previously won a qualification match in their respective area of China.
The battles in the semi-final and final were really amazing.
Beautiful lines, perfect machine control and the high skill level during the close fighting left me absolutely speechless!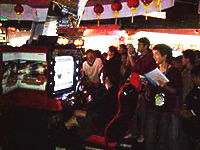 Finally, the winner was decided. He was given an invitation card to race at the "Fastest Player in Highway Match 2008".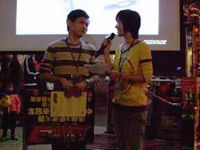 I guess this must have happened at all the other areas where there were races too, not just China.
The battle of the top players at AOU, where the strongest and fastest players will be decided, will be breathtaking! I can't wait to see it!
Thank you and see you again soon!
(Original article in Japanese released on 1.30.2008)