Hello, it's Maeda here.
It's been getting a bit warmer recently, and it's turning into a nice season for driving.
Just like a certain somebody who just bought an RX-7 (FD3S) [I'm kind of giving the game away for the question in Future Lab News two weeks ago though...], I feel like going for a casual drive around Hakone or some other good spot.
Oh that's right!! I forgot to tell you!...your favorite combo of special correspondents -Takenaka and myself - went to the Philippines at the end of last month for a Wangan Maxi 3 tournament!!
Four hours on a plane, then touchdown in the Philippines!
I thought it'd be really humid when we got off the plane, but it wasn't really humid at all - we didn't even sweat.
Could it be the nervousness upon stepping on Philippino soil? Anticipating the turbulent tournament that lies in wait?
For some reason, Takenaka looks tense.

I'd heard that the Philippines were developing really quickly, but the cityscape was a real surprise - it was even more beautiful than I'd imagined.
Apparently lots of new shopping malls and offices are now under construction.

These distinctively Philippino shared taxis (?) were cruising through the streets.
The taxis go round a fixed route, and you can get on and off whenever you want.
The brightly-colored bodies of the Philippino taxis were totally cool!

The tournament was held on a special stage set up in a shopping mall.
I'd really like to say thanks to all the participants!...and I'd like to say thanks to all the shopping mall customers.

When Takenaka saw that his name had been written up on the special stage he got quite a shock!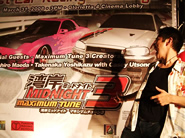 I guess you all want to hear about the fierce battles at the Wangan Maxi 3 Tournament - so don't miss Takenaka's report in the next Future Lab News, "The Philippine Tournament (part 2)".
I hope you like it!
See you later!!
(Original article in Japanese released on 4.23.2008)