Genre : MEDAL / REDEMPTION
Shipdate : JULY, 2000





Aim characters on the screen by shooting medals with the gun.
Characters have slots which pay items and medals when they are shot.
Don't miss the opportunity to get a lot of medals when the boss comes into the shooting range!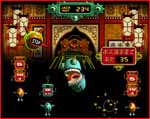 This is a new medal game which video game like effects and game features will draw attention of medal beginners.

• Dimensions : W610xD1320xH2090(mm)(not including signboard)
• Weight : 140Kg
• Players : 1