Genre : MEDAL / REDEMPTION
Shipdate : JULY, 2000




Aim characters on the screen by shooting medals with the gun.
Namco's classic video games Galaxian, Gaplus and Galaga are featured.
Some aliens have medal/ticket inclease or jackpot inclease items. when each 10aliens are destroyed, boss alien comes into the shooting range with a help item.
When you destroy all aliens a stage is cleared and you can challange the bonus stages.

This is a new medal game which video game like effects and game features will draw attention of medal beginners.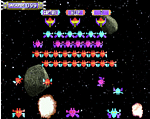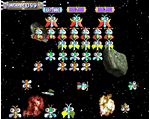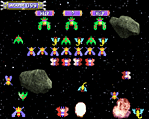 • Dimensions : W610xD1320xH2090(mm)(not including signboard)
• Weight : 140Kg
• Players : 1